That's a Wrap, Folks - Our Year in Review
Scott Long - December 16, 2021 - Featured Content Area
Dear friends,

I am proud to end 2021 having seen the early and bold action taken by our members to keep our industry thriving since the very start of the pandemic.

The data speaks for itself: financing of machinery and equipment assets grew 12%. After pivots in operations and working with clients to help meet their needs, this growth in a tough market is impressive. I'm confident we'll continue to support Canadians and their businesses as we move into 2022.

We've also been busy. Well before the pandemic, we began investing in a transformational digital-first strategy. All our investments are now live:
Our new, much-improved website

A modern customer relations management system and database to help us maintain and enhance our member services

The reimagined Weekly Round Up to send vital information optimized for all your devices.

Alongside the work on digital transformation, advocacy and industry intelligence remained top priorities to spotlight our industry with critical government decision-makers. This year, among other advocacy initiatives, I'm proud we:
Were the only stakeholder association consulted by the Québec government with their plan to simplify its Consumer Protection Act and also helped allow digital signatures for online car purchases

Advocated for the Ontario and Alberta Governments to modernize their respective Personal Property Security Registries

Signed a joint multi-association statement urging Federal Parliament to prioritize legislation protecting consumer privacy and personal information

Worked closely with other automotive associations and the Canadian Government to delay the implementation of the Federal Luxury Tax.

It was only through the dedication of our engaged member companies, Board of Directors and Committee volunteers that made this work possible.

Last but not least, after two incredibly transformative years, I want to recognize Angela Armstrong, the founder and President of Prime Capital Group, our first female and now former Board Chair, for leading us through the pandemic's harrowing impacts. It was not an easy job, and Angela stayed committed.

I'm also excited to welcome Mike Rusch, President of Jim Pattison Lease, as our Board's new Chair. I've been fortunate to have had such strong, dedicated and passionate Board Chairs to work with such as Mike and Angela. On behalf of our industry, thank you both for your commitment to the CFLA.

I'm eager to keep building on the foundational work we've done this year and excited to share it with you next year, like the new online CFLA Fundamentals course to replace our ageing Canadian Leasing Education Online program. From all of us here at the CFLA, best wishes for the holidays and thank you for your confidence in us as we work for the betterment of everyone within our industry. We look forward to seeing you all in person at one of our many events planned for 2022.

Yours sincerely,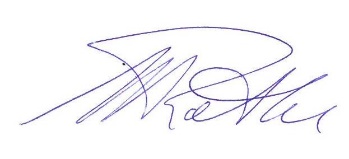 Michael Rothe
President & CEO