Webinar: Optimizing Fraud Prevention by Provenir
Scott Long, CFLA - November 10, 2023 - Featured Content Area
Optimizing Fraud Prevention: How to Drive More Growth By Tackling Fraud Head-On
Law enforcement, lending, and data perspectives in the fight against fraud
Wednesday, November 22, at 1:00 p.m. ET

Watch the recording online for FREE
(CFLA members only)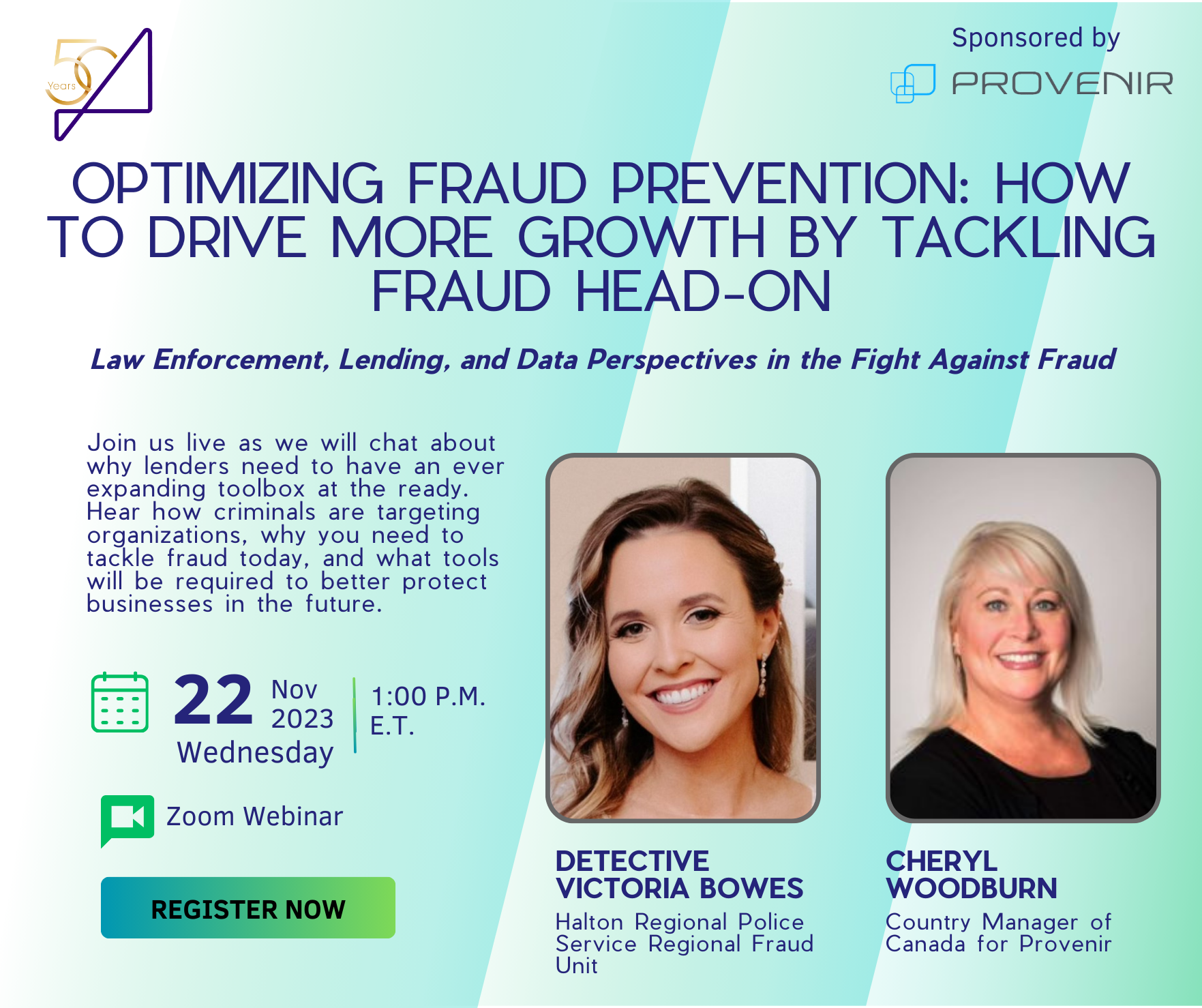 Abstract:
Fraud in every industry is rising, and the auto financing world is no exception. According to Equifax Canada, fraud in the automotive sector has increased 28% year over year due to a combination of factors, including higher interest rates and supply chain challenges. As fraudsters become more sophisticated, so must the methods dealers and lenders use to thwart their efforts.
Join us live on November 22, where Cheryl Woodburn, Country Manager of Canada for Provenir, and Detective Victoria Bowes with the Halton Regional Police Service Regional Fraud Unit will chat about why lenders need to have an ever-expanding toolbox at the ready. Hear how criminals are targeting organizations, why you need to tackle fraud today, and what tools will be required to protect businesses in the future better.
Detective Bowes will:
• Discuss the various types of synthetic ID fraud and the techniques used by criminals to commit automotive fraud
• Explain the red flag indicators and how law enforcement experts are responding to the ever-changing fraud tactics
• Review a recent automotive fraud investigation involving an organized crime syndicate targeting vehicle dealerships/leasing companies/financial institutions using a variety of counterfeit documents
Provenir will:
• Share current trends, including challenges and opportunities, relating to fraud in the automotive sector and discuss ways to mitigate fraud with better data orchestration
• Discuss why eliminating siloed environments between your fraud and credit risk teams enables a more holistic view of your customers across the lifecycle
• Share why fraud prevention is a growth enabler
The better you get at preventing fraud, the more confident you can be in your decisions – and enable sustainable business growth as a result.